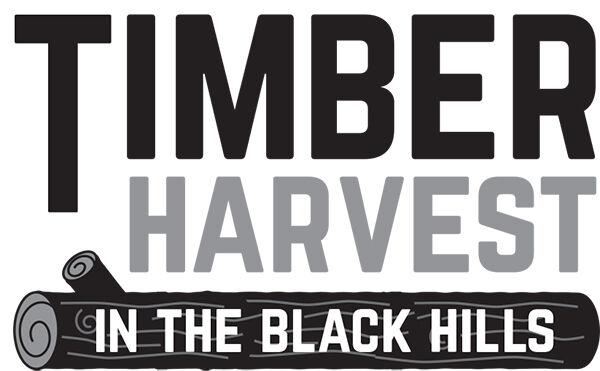 EDITOR'S NOTE: This is the second in a series of stories where the Black Hills Pioneer will explore in more detail the economic impact of the forest, the forest products industry, the overall health of the forest, and what makes the Black Hills such a unique and diverse ecosystem.
HILL CITY — The Rushmore Forest Products mill closure in Hill City will have an estimated $115.5 million economic impact on the entire Black Hills area, owner Jim Neiman said.
The number is based on money lost when the company's 120 employees and seven of its contractors are released after the mill shuts down. Neiman said those employees and contractors represent about $16.5 million in payroll from the company.
While it's impossible to zone the losses down to a small community like Hill City due to the number of employees who live throughout the Black Hills area and the mobile nature of logging contractors, typical economic models show dollars generated from an agricultural manufacturing business such as the sawmill turn over five to seven times within the region, he said.
"That's painful," Neiman said of the money that will be lost. Neiman directly attributes his mill closure to the U.S. Forest Service reduction in timber sales that have decreased log supply. While Neiman Enterprises still operates sawmills in Spearfish, Hulett, Wyo., Montrose, Colo., and Gilchrist, Ore., Neiman struggled greatly with his decision to close the plant that has operated in the small Southern Hills town for 53 years.
"This was a tough decision on which mill do we curtail," Neiman said. "In the simplest form, this decision devastates Hill City, but it would destroy Hulett. A much higher percentage of our employees live in the Hulett area."
At Rushmore Forest Products, Neiman said 52 employees live in Hill City, 27 live in Custer, 40 live in Rapid City, and the balance of employees are scattered throughout the Hills, even as far away as Deadwood.
At Devil's Tower Forest Products in Hulett, Wyo., 70 of the 100 employees live in the small town where the sawmill is the major economic driver.
The population of Hill City is about 1,000. Rushmore Forest Products employs about 120 employees, with about 5% living in the town. The entire population of Hulett, Wyo. is about 360, and close to one-fifth, or 20% of the population works at Devil's Tower Forest Products.
Next to the sawmill, Hill City's second industry is tourism, with visitors lining the streets of the quaint town every summer. But Neiman said the two industries really can't be compared, and a healthy community needs a blend of recreation and manufacturing.
"Recreational jobs a lot of times are seasonal," he said. "Your core jobs pay full time benefits, and in our case we had one of the best insurance programs available. That's going to be hard to replace for those employees. Manufacturing creates new dollars. Recreational jobs are old money passed through to somebody else. Those don't turn as many times as manufacturing jobs in the community."
Hill City Economic Development President Bob Lowrey said Neiman Enterprises and local officials helped facilitate a major job fair in town, where 35 employers from as close as Rapid City and as far away as Colorado attended, prepared to conduct interviews and on-the-spot hiring.
The job fair was a success, as Lowrey said, "If you can't find a job after going to that job fair, you don't want one."
Job availability was definitely on Neiman's mind when he decided to close the Hill City mill. His timing for the mill closure was mostly based on when it would be best for the employees.
"We should have made this decision a year ago," Neiman said. "We were getting down to a shortage of timber. I should have done it a year ago this spring. Then COVID hit, and I couldn't do that to them. So, I didn't do it last spring. We got to summer and COVID was still having a big impact. We got to fall and I'm not going to lay them off where they can't find jobs right before Christmas. Then we got past Christmas, and it was still a brutal winter. This spring we've got the best employment opportunities that they've ever had in their life. We analyzed in detail how many were in Hill City, how many in the Custer area, and how many in the Rapid City area."
To date, Neiman said, the company has not laid off any employees in Hill City. Under the Worker Adjustment and Retraining Notification Act from the U.S. Department of Labor, Neiman Enterprises is required to give employees 60 days notice before layoffs start to occur. With its closure announcement in March, the company is still within that waiting period. But that doesn't mean the company hasn't already lost employees.
"We've lost enough employees that we didn't want to lose that we're now down to one shift instead of two shifts," he said. "Whatever happens in the next month, we'll just have to haul the excess logs off to Spearfish. But we're going to retain 10 to 15 of the employees and keep our remanufacturing facility going there for about a year, making knotty pine paneling. The market is so strong, we can't afford to shut that down. So, we'll ship lumber in and have it remanufactured into knotty pine paneling, and then we'll ship it out until we move that facility. We're committed to go another year on that part of it.
Besides payroll losses, the Rushmore Forest Products closure could result in decreased tax dollars and some significant revenue losses for utility companies, particularly to Black Hills Energy. Though Neiman said he is unsure about the tax losses, Pennington County Director of Equalization Shannon Rittberger reported that 2020 taxes paid this year were at $63,619, and the 2021 property assessment for taxes due next year was $3.8 million. Rittberger said it remains to be seen whether the closure will affect future tax assessments at the property. But, Rittberger said there is no such thing as a loss in tax dollars. If tax assessments at the Rushmore Forest Products do go down, governmental entities could raise taxes to make up for the shortfall.
Taxes aren't the only rates that could go up due to lost revenue. For Black Hills Energy, Neiman said Rushmore Forest Products in Hill City pays about $1 million per year in electric bills. In Hulett, Wyo., the mill pays about $1 million a year, and in Spearfish the number is between $1.5 million to $2 million. So, Neiman said, losing revenue from the Hill City operation was substantial.
"That has an impact on your utility," he said. "They might have to raise rates because of that. It has an impact."
Though Neiman did not give a number for his company's charitable contributions, Neiman Enterprises has a reputation for being very generous, particularly in the smaller communities that host its sawmills. Though Neiman said he hopes to continue giving to the Hill City community that he loves in some capacity, it won't be at the same levels.
"Neimans have a history of being very generous to Hill City," Lowrey said. "When the city built the football field and the track about five years ago, Neiman was very helpful in getting that done. That is one example of many where Neimans have stepped up to help Hill City. I know for a fact that Jim Neiman loves Hill City and did not want to close this mill."
"I'm nervous to give out numbers," Neiman said. "We don't design a budget (for charitable giving.) We try to focus on what the needs are more than what we can do. Particularly in Hulett and Hill City, where you're the primary manufacturing facility and you have the majority of the jobs you have a responsibility that might be different than in a bigger town like Spearfish. If you're the major employer, you have a responsibility and a desire to help them out, because they don't have a lot of places to go. So you can't set a budget. Our industry is a little like the cattle or grain business. You either have chicken or feathers. You do what you can, when you can."
In addition to helping to pay for the football field in Hill City, Neiman said the Hulett sawmill is currently in the process of contributing significant amounts of money for a medical clinic, and to help expand the agricultural program at the high school. The company also has other projects planned for the area, which could help improve the quality of life for its neighbors. It all boils down to leaving the area better than you found it, and making investments to ensure a good future, he said.
"Who got us here? And who's going to take us to the next step? I'm the third generation and I'm trying to provide for my five grandkids," Neiman said as he explained Neiman Enterprises drive to give back to the communities. "So, you gotta think out 50 to 100 years and I won't be here.
How do you help set that stage? My dad said it best when he said 'you come into this world naked, and you go out naked. You can't take travelers checks.' You need to look at that in the community. How do you help those employees who have dedicated 40 to 50 years to you, and their kids might be working here. Like agriculture, it's a culture. It's a culture in Hill City. It's a culture in Hulett. I'm proud of it. We're agriculture. We're treating a 100 to 150 year old crop instead of an annual crop."
Hope for manufacturing in Hill City?
In the interest of leaving behind something for the generations, and trying to minimize the economic impact of the sawmill closure in Hill City, Neiman said he has been working diligently to try and fill the space with some kind of manufacturing operation.
"We are evaluating to see if there is any chance to create an industrial zone," Neiman said. "We feel an obligation to try and come up with some alternative to try and replace us and not just liquidate it and turn it into housing or something else there."
Though Neiman was not able to give details, he said the company is exploring the possibility of getting some kind of mineral or other manufacturing operation.
"We're still looking," he said. "It's early and we're still going through the painful stages of it."
The future of the Hulett sawmill?
Currently, Neiman said if the U.S. Forest Service continues with its current cut rates Neiman Enterprises will need its remaining sawmills in Spearfish and Hulett to handle the timber. But the future depends on the federal government, and their forest management practices.
"It's going to be important that the Forest Service maintain their volume," Neiman said. "We'll be going through a forest plan revision in three years. It's going to be important that we figure out how to maintain the two existing mills. There is enough growth here. It's a matter of convincing the federal government that they need to continue to put up enough wood to supply the remaining two mills."
But if Neiman Enterprises is forced to shutter another mill, Neiman said the economic trickle down effect to other businesses could be even more devastating to the Black Hills region. Dakota Panel, in Rapid City, employs about 300 people and relies on Neiman Enterprises to supply about 80 to 110 semi-loads of material from its mills. But with the closure of Rushmore Forest Products, the company just lost part of its supply. That's just one of many separate board manufacturing businesses in Rapid City that get material from the area sawmills.
In fact, Neiman said, there are at least 1,200 to 1,400 direct jobs related to forest products, not counting those with the U.S. Forest Service.
"That domino effect will be much more devasting than just Hill City," he said, adding that if another mill shuts down and other manufacturing businesses are forced to close, he will not have a place to send his byproducts.
"We're out here on an island on the edge of the Midwest," he said. "Where do we send those byproducts? What do we do?"
Some of those byproducts are also produced in the form of bagged shavings that are used in the agricultural industry for animal bedding, two-thirds of which came from the Hill City sawmill.
Overall, Neiman said the Rushmore Forest Products closure will be permanent, since he does not anticipate the federal government increasing its harvest numbers. His focus now is maintaining current harvest levels, to ensure there will be no more damage to the regional economy or to the forest itself.
"We're fighting to maintain where the current cut is right now," Neiman said. "We don't feel we'll get them to increase it. I never thought I would see the day when we would be out of options to keep all our facilities running. Lumber markets have been exceptionally high for the past year and have broken all-time record highs. The problem here is purely a lack of timber available for purchase in the Black Hills, and we rely on the forest service for approximately 80 percent of our supply." 
To read all of today's stories, Click here or call 642-2761 to subscribe to our e-edition or home delivery.