Where does our food come from?
3rd graders learn about the food cycle during farm field trip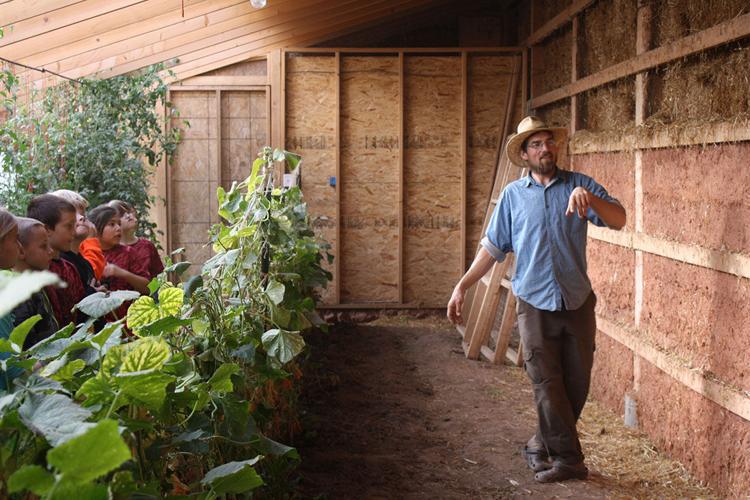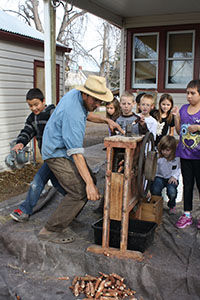 SPEARFISH — A relay race enacting the transportation, processing, storing and selling steps involved in producing and getting a boxed meal of scalloped potatoes, versus a relay race enacting the steps of growing and cooking the potatoes oneself, helped to illustrate food cycles to Spearfish third graders Thursday.
"Hopefully, they'll make smarter choices when they're eating," Evan Griggs, Black Hills State University student intern who planned the field trip, said.
Griggs is an intern through Spearfish Local, a grant-funded program launched in June that partners BHSU Sustainability, the city of Spearfish, local producers and businesses to promote locally sourced foods. Funded through a $24,800 grant through the Wellmark Foundation, the aim of Spearfish Local is to bring awareness and education about foods produced in the area, make them more accessible to the community through local restaurants and markets to encourage greater consumption, and entice more local producers to come to the area, to create a community-wide partnership focused on the health, environmental, and economic benefits of a local food economy.
Katie Greer, BHSU sustainability coordinator, explained that nine paid student internships are taking place through the year to allow students to engage with the community and work toward the Spearfish Local mission. Each intern has a unique project that each then takes back to share, allowing all of the interns to learn from each other, as well as hands-on work experience they are gaining, and Griggs' project focuses on education.
Thursday's field trip was the first of the three-part project: one-third of the approximately 180 Spearfish third graders visited Cycle Farm, an organic farm run by Trish Jenkins and Jeremy Smith on Evans Lane, to learn about the food cycle. They also toured the greenhouse and helped harvest and sort seeds, using paper bags, buckets, sieves, and a fan to sort lettuce, mustard, parsnip, and other crops' seeds.
Another third of the grade will visit during the winter, with the remaining third visiting in the spring.
"The farm is totally different through each season," Greer said.
Each group will learn about and help with tasks happening during those seasons and then present to the others what they learned, getting a fuller picture of the annual cycles that take place at a farm.
"I really appreciate having people come and see what kinds of activities are happening, because there's so much activity happening that's not presented" during the non-harvest seasons, Jenkins said. Once farmers markets close for the season and people put their harvest decorations away, they may not be aware of all of the work still happening on farms and for producers, as they plan for the coming year, and students Thursday got a chance to see and help with saving seeds that Cycle Farm will use in the future.
Creekside Elementary third-grade teacher Sandy Nichols explained that the third-grade class studies a "structure of life" unit, which goes right along with what the students were seeing and doing at Cycle Farm. She said she hoped that the partnership with Spearfish Local would enhance the unit for the students in a hands-on way.
Griggs' hope is that the third graders can use the concepts and techniques learned on the field trip in their own eating habits, home gardens, or at the grocery store.
"We think it's important that kids make healthy choices with their food, and so knowing where their food comes from, and how to get local foods and those sorts of things, is a part of the lesson today, starting that seed," Greer added. "And it's fun! They really like the chickens."
To read all of today's stories, Click here or call 642-2761 to subscribe to our e-edition or home delivery.